PLAYGROUND SAFETY SURFACING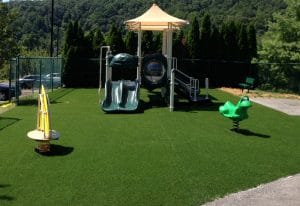 Synthetic Turf
Synthetic turf, or artificial grass, is a great surfacing option for playgrounds. It is ADA compliant as it is wheelchair accessible. Synthetic turf can also soften impact on falls up to 18 feet, when installed with padding underneath. It is infilled with playground sand, as opposed to rubber granules, to keep the system cool and consumer-friendly. Synthetic turf requires minimal maintenance, resembles natural grass, and can be played on following a rain storm!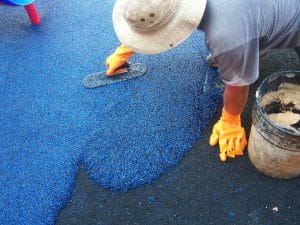 Poured in Place Rubber
Poured in Place Rubber is a popular rubberized playground surface. It is a unitary surfacing option that provides an ADA-compliant soft cushion around your play area. Poured in Place Rubber consists of two layers: an impact attenuating base layer and a colorful wear layer. The base layer is made out of recycled rubber products, and varies in thickness depending on the height of the playground equipment. It does, however, require some maintenance to prevent cracks and tears.
Poured in Place Maintenance          Poured in Place Depth Information     MSDS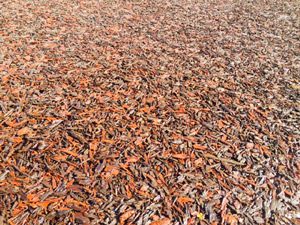 Bonded Rubber
Bonded rubber is similar to Poured in Place Rubber as it is a unitary rubberized surface. However, the key distinction is that bonded rubber is only one layer, while poured in place rubber is two layers. This surfacing option is also ADA compliant. Bonded rubber drains well, and thus is great underneath a play set or used as a surface to walk or bike on! The maintenance required for bonded rubber is similar to that of poured in place, in that the surface must be maintained to prevent tears and cracks.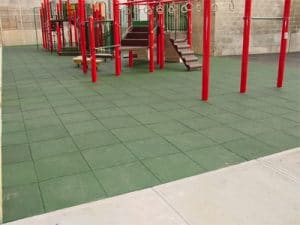 Rubber Tiles
Rubber tiles are another playground safety surface that are ADA compliant. This surfacing option is durable, has a long-shelf life and requires little maintenance. We offer 2′ x 2′ playground rubber tiles in multiple thicknesses, based on the fall height of the playground equipment. Our tiles have channels across the bottom that allow for proper drainage, keeping your playground safe and dry. Our tiles exceed the required guidelines set forth by ASTM and CPSC. Available in multiple color options.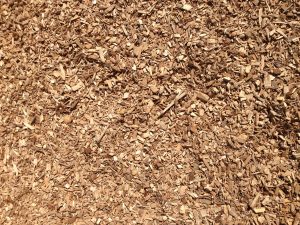 Playground Mulch
Playground mulch, also known as engineered wood fiber, is a loose surfacing material. This surfacing option varies from regular mulch as its virgin wood does not contain any impurities, is free or bark and the chips are of uniform size. Playground mulch does not splinter and if it is adequately compacted it can be wheel-chair accessible. We recommend installing rubber or plastic borders to surround this surfacing system.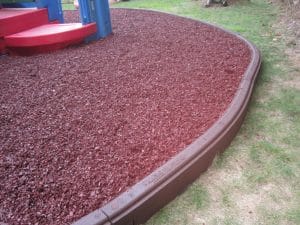 Shredded Rubber
Shredded rubber, also known as rubber mulch, is a playground safety surfacing that provides great impact attenuation. Shredded rubber is very environmentally friendly as it is made out of recycled tires. This option requires minimal maintenance as it does not need to be replenished often and it only needs some occasional raking. We do not recommend this surfacing option for children under two years old as it presents a choking hazard.