Your Poured in Place Repair Kit Choices
TO CHANGE SIZES, CLICK ABOVE
– Each playground rubber repair kit comes with a perfect ratio of pre-measured rubber granules and Trassig's binder used to glue them together. Our binders do not require mixing with any other substance besides the rubber.
– There are two layers in each PIP Rubber Surface System, the Base Layer (Impact attenuation layer) which consists of black SBR buffings, and the Wear Layer which consists of EPDM granules in your choice of color.
– Our EPDM is of the highest quality because it is dust free and made to last. Combined with our binders, it produces the best poured in place repair kit that money can buy.
Quick – Will repair approximately 2.5 square feet of surface (5lbs of rubber + 1lb of binder)
If you are a contractor with experience installing poured in place rubber, our selection of bulk bags are the most cost-effective solution for large repairs.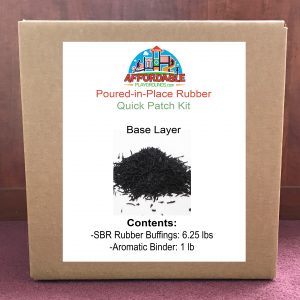 13%
Quick Size: Covers approximately 2.5 sqft at a depth of 1" (6.25 lbs of rubber granules & 1 lb of Aromatic binder) This playground rubber repair kit is an easy DIY solution that quickly solves a small problem before it turns into a big one.The patch kit is a...